Spring is the season for renewal, the time for floral patterns, pastel colors, and the first glimmer of sunshine! Spring is a great time to get married and enjoy all the wonderful blossoms the season has to offer.  Here are a few fun Spring options for your big day or any of the amazing events in between!
Peonies:
Peonies one flower that significes the begining of the season. Peonies are a great way to add a little color to a simple but elegant ceremonies or a beautiful touch for your centerpieces.
Photos by Brocade Nashville
Buttercups (Ranunculus):
Buttercups are the flowers of humility, neatness, and openness. These flowers are a great idea for the children's table or any funny event leading up to your special day.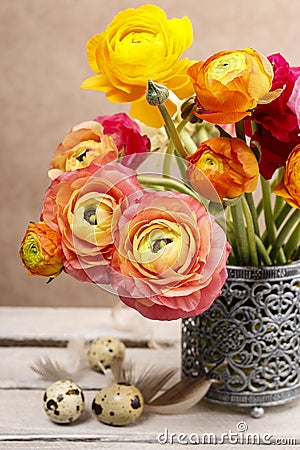 Photo by Dream Stime
A Forest of Dessert 
Wedding trees can add warmth, sophistication, and dazzle to any wedding. Trees can be used as center pieces for your dinner tables or a main focal point for your wedding.
Photo by Janet Howard Studio
Table setting: 
A floral table setting can added wonders to your guest dinning experience!
Photo by Papered Wonders, Inc.
Floral Hair Accessories 
Floral hair accessories can add a subtle touch of beauty and elegance to your hair for the big day.
Photos by & Wedding Flowers